9.9.2023 by Fiete with a little help from Mervi
This story was first published on the 2nd of September 2016.
Fiete knows I love the Fall so he sent me some news from the young polar bears' world. Oh bear, our friends certainly are busy these days …. but now I let Fiete tell you all about it in his own words!
……………………….
Dear friends! It's September and the Bear Academy has opened the doors again for both old and new students. Hope, Charlotte, Lale and myself are senior students and we also 'work' as mentors to our younger friends.
Mind you, we only wore the stupid uniforms for this official photo! Otherwise we just let our furs shine!
We are very happy to travel with this nice train to the Academy.
The first lesson was apple pinching. Juno and Lili tried to shake the tree in order to make the apples fall but they were not very succesful. Luckily Hope had brought a portable ladder with her ….
The small bears were worried about the permission to pick apples from the tree but Hope could calm them down. She told them permissions are not any issues for polar bears. In every garden the two legged creatures are more than happy to leave the entire garden to the white giants! Nobody has ever tried to chase them away ….. and may I add the same thing happens everywhere! The two legged creatures in the buses, the trains, the restaurants always offer their places for us. The humans are very funny but quite nice!
– Why are the apples so important? Juno asked.
– We will give them to the teachers! We will show our appreciation – and maybe we also hope the apples will make the teacher have a 'friendly attitude' and look away if there are some 'mishaps' 🙂 …. The humans usually give money to bribe somebody but who can eat money??? Again a good example why we polar bears are superior to the human race!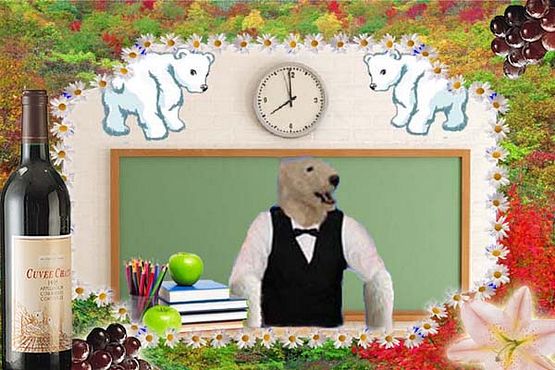 Uncle Sergej is the beloved head master of the Bear Academy although he only works there part time. As you may know he also works as a bar tender in the Knuipe.
After welcoming the students Uncle Sergej presented a couple of school books.
'Stay chilly – be cool' is an excellent guide to young polar bears and prepares them well for the adult life.
Herr Dr Rasputin is Uncle Sergej's nephew and also an eminent writer of school books. His bestselling book is this one:
All the young bears received these books and I'm sure they'll love to read them and learn lots of polar bear things.
Then the head master had a surprise for the students. He had arranged for a trip to a nearby forest where the bears could explore the nature! Needless to say everybody was excited.
Noria was a bit afraid of the handsome deers but I assured her these animals are our friends. If we let them alone they leave us alone! Again something even the humans should learn!!
Lili was happy to find this big eyed birdie. They had bundles of fun together and agreed to play together even in the future.
Lili is a very curious kind of girl and I had to keep an eye on her and warned her of poisonous plants and mushrooms. This red thing looks so nice but it's called the 'fly agaric' and we must never eat it!!! I hope Lili will remember this!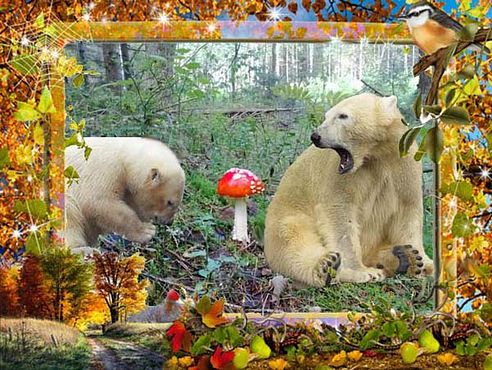 Luckily Nora and Lili found two baskets filled with eatable mushrooms and yammy lingon berries. Well, they didn't actually find them …. They were left behind by two women who suddenly were in a great hurry. I wonder why!!
After a day in the forest Charlotte gave a swimming and diving lesson in the academy's pool. She even demonstrated what a bear can do with a piece of cardboard.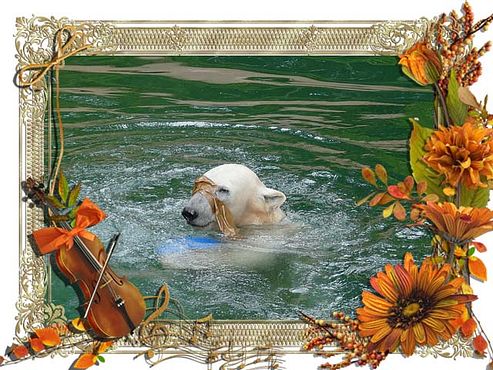 In the evening everybody was tired. Uncle Sergej allowed himself to have a night cap and a cigar before going to bed. Our dear Uncle really deserved this!
Welcome Fall!